When we started Cottonwood Custom Builders in 1995, "green building" was not mainstream. But as lifetime supporters of environmental preservation, we have always been committed to creating structures that minimize their impact and promote healthier living and a sustainable future.
Today, Cottonwood Custom Builders is considered an industry pioneer and one of Boulder's leading custom green home builders. We have completed several Net Zero homes and some with a negative HERS rating. A home with a HERS rating of zero generates as much energy as it consumes and far exceeds the current International Energy Efficiency Code requirements.
Reducing, Reusing, & Recycling Every Step of the Way!
According to the U.S. Environmental Protection Agency, 600 million tons of construction and demolition debris are generated annually.1 We must do better. Through deconstruction, instead of demolition, we divert 75-85% of materials from the landfill.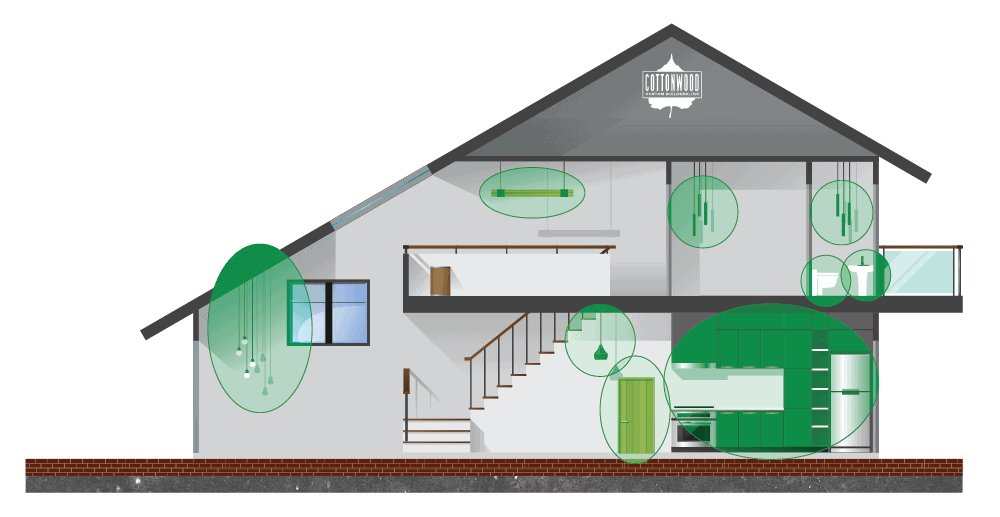 Deconstruction Step One
We remove all re-usable materials, such as:
Cabinets & Counters
Doors
Plumbing Fixtures
Lights
Trim
Appliances
Deconstruction Step Two
We take the structure apart piece by piece & sort the materials.
Lumber over 6' is donated
Lumber under 6' is ground up for mulch
Windows are donated
Metal (plumbing, electric, etc.) is recycled
Brick is used for backfill
Concrete is recycled
Green Building Basics
Green building can be done well or very poorly depending on the expertise and attention to detail of your builder.
Some builders, such as Cottonwood Custom Builders, care a lot more about getting it right, but the majority really just do the minimum to pass inspection. With more than 20 years of experience under our belt, we are one of the Front Range's leading green builders, which means we have perfected our practices and build incredibly efficient homes that will continue to perform for many years to come.
At its most basic, green building is a commitment and attitude to build the most energy efficient building possible within a reasonable budget and maintaining the integrity of the architect's design.
When you dig into the details, green building becomes more complex due to the constantly evolving world of new products and methods while delivering the design and quality our client's demand. Building Science has come a long way in even just the last 5 years and CCBI employs the latest "best practices" in every project. Whether it is a small remodel or pop top or a large new custom home we get the details right.
The building envelope is the most important aspect of long-term energy efficiency.
We produce incredibly tight buildings with high indoor air quality (which is a problem in some new homes today) by properly air sealing, carefully installing the right insulation, using high performance windows and doors, and installing high performance ventilation. Then we test each home to identify and seal any weak spots. This aspect of green building is about attention to detail and doesn't significantly increase the cost of construction.
More than 30% of all US landfill waste comes from construction projects. This is a sad and unfortunate statistic.
At Cottonwood Custom Builders, we're committed to building better.  Many "green" builders don't do the extra work to separate clean wood, cardboard, and metal from job site trash, thus sending those reusable materials to the landfill.  We are proud to send as little to the landfill as possible. The vast majority of our construction debris is recycled and this is a very high priority on all of our projects. Nothing is thrown away that can be used or recycled. This extra effort means we save tons of waste from Front Range landfills every year.
If you want to evaluate a green builder and make sure they truly walk the walk, go look in their dumpster for materials that could have been recycled and instead are going to the landfill.  
A few years ago "green building" meant installing bamboo flooring shipped from China. Today, it's a different story. From windows to stone to roofing and siding, we evaluate all materials and recommend greener substitutes that fit with your budget. The greenest materials are the ones that are local and we use those whenever possible. Cottonwood Custom Builders keeps up on the latest technologies and materials and which are most environmentally friendly and local. We have some of the best stone in the world just up the road in Lyons, Loveland and Fort Collins. Beetle kill pine is a beautiful material for a variety of uses. We use rigid foam made in Denver that is 1/3 the cost of DOW blue board. One of the highest performing window brands is based and manufactured in Boulder.
Photovoltaic electric power systems, solar thermal hot water, and geothermal heating and cooling are complex and require a substantial upfront investment. You need someone with extensive installation experience to avoid any major problems and costly mistakes in the future.
In the last two decades, we've built several of the region's lowest-rated (that's a good thing) Net Zero homes—some as low as HERS -2. For reference, Boulder's Green Building code is a HERS of 60 which equals the "Energy Star" standard and the International Energy Efficiency Code is a HERS of 100. The lower the HERS rating, the more efficient the house. We are happy to report that we have perfected our approach to designing the best system for a particular project and work with subcontractors that do work above industry standards.
The Home Efficiency Rating System (HERS) is the industry standard for measuring a home's energy efficiency relative to other buildings. It's also the nationally recognized system for inspecting and calculating a home's energy performance, similar to the Miles Per Gallon (MPG) rating for cars.
To calculate a HERS score, a certified building science professional inspects the home's exterior walls, flooring, ceilings and roof, foundation, windows, doors, vents and ductwork, HVAC systems, water heating systems, etc.
The current International Energy Efficiency Code (IECC) is a HERS score of 100. The City of Boulder requires a HERS of 60 which is the ENERGY STAR® level and means a building is 40% better than code. What does all of this mean to you? A low HERS rating can mean higher resale value, lower utility bills, better air quality, and lower environmental impact.
Because of our high standards, Cottonwood Custom Builder's homes are more energy efficient than required by Front Range code standards.
Recently, we remodeled a 1980's ranch with a walkout basement near Lyons.  It required a HERS score of 74. CCBI achieved a HERS of 48 and more than 30% of the home was untouched by the remodel.
Cottonwood Custom Builders has completed several Net Zero homes and is currently building a 14,000 sf home in east Boulder County with a pool, spa and outdoor fireplaces that will achieve a -2 HERS rating. The home includes 20 kw Photovoltaic system, geothermal radiant heating and cooling, solar thermal domestic hot water, state-of-the-art plumbing and electrical systems. The pool and spa are heated for "free" by waste heat from Geo cooling.
Sources
https://www.epa.gov/facts-and-figures-about-materials-waste-and-recycling/construction-and-demolition-debris-material